She loves African women writers as much as she loves Virginia Woolf.
She worries about the works of women who made their mark in African and African-American literature, the pioneers so easily forgotten because they're not taught in our universities, and because they're not included in 'American Literature. When will egotistical and same-minded university heads get over themselves and allow diversity of thought within our schools by ensuring a diverse faculty and by allowing professors this thing supposedly called "academic freedom," a choice that is antithetical to the infamous and stale 'required anthologies' used in some schools?
I won't go into the personal insults I, or my colleagues of color, have endured within academia; the kind we sit and discuss over coffee, or while at a conference, marveling at the similarity in wording and tone. When pressed, some argue that their literary studies did not include a concentration in African American literature.
I won't go into discussion about the professors who want to teach African American literature as a part of their literature course offerings, but who are told by their department chairs and deans that they cannot. I won't discuss the absence of African literature on most World Literature course offerings. I will say that when I quietly offered an educator a solution like the one Walker offers in the following quote, it was seen as ludicrous, that a student should even consider these things: I realized sometime, after graduation, that when I studied contemporary writers and the South at this college --taught by a warm, wonderful woman whom I much admired -- the writings of Richard Wright had not been studied and that instead I had studied the South from Faulkner's point of view, from Feibleman's, from Flannery O'Connor's.
It was only after trying to conduct the same kind of course myself -- with black students-- that I realized that such a course simply cannot be taught if Black Boy is not assigned and read, or if "The Ethics of Jim Crow" is absent from the reading list. In reading her works, like her I've had a newfound love for the strength of Camus' style, I've remembered why I love O'Connor's dark and layered prose, and I'm reminded that I need to explore Faulkner more.
Yet I'm also mindful of Emecheta, she who sits on my bedside table, and of Petry, she who waits from my shelf. Walker admires the works of Chopin, the Brontes, Simone de Beauvoir, and Doris Lessing, yet unlike some writers of her generation, her admiration for women writers know no racial or cultural lines, for she also admires the works of Margaret Walker, Frances Ellen Harper, and Nella Larsen; as well as African women writers like Buchi Emecheta, Ama Ata Aidoo, and Bessie Head. To her, the importance of exploring women writers was not about simply making a feministic point about male versus female, but at its core, it was about preserving the history and richness of our literary culture, about unearthing truths and humanity through literature.
It was because they wrote "on the condition of humankind from the perspective of women.
In Search of Our Mother's Gardens : Alice Walker :
In terse, non-accessorized prose, she writes of the Harlem Renaissance, the Women's Movement, and the conflict in Cuba. With imagery, she lets the reader enter her travel through the life and work of the woman who inspired her: Zora Neale Hurston. In lucid yet simple strokes, she paints the portrait of herself as a mother and daughter; her trajectory as a wife, writer, and activist.
Most importantly, she speaks of what it means and feels like to be a woman, a black woman, in America and in the world. The women of China "hold up half the sky. The women of Cuba, fighting the combined oppression of African and Spanish macho, know that their revolution will be "shit" if they are the ones to do the laundry, dishes, and floors after working all day, side by side in factory and field with their men, "making the revolution.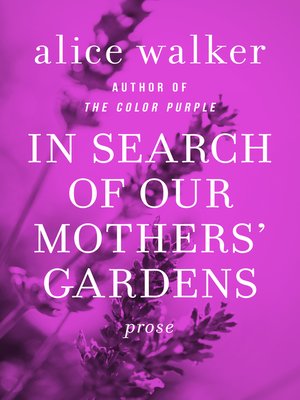 The enemy within is the patriarchal system that has kept women virtual slaves throughout memory. View all 13 comments. Jan 24, Ifeyinwa rated it it was amazing. It took me about a month to finish this incredibly powerful and convicting collection it's dense and contains a lot of essays, speeches and statements , but I am so glad to have read it. Walker covers so much! From her search for Zora Neale Hurston's grave to reflections on female writers who walked before us and more. One thing that is impossible to ignore in this wholesome collection is Walker's devotion to black female writers- a deep appreciation for them and a reverence for their work.
Shelves: bio-memoir-ethnog-true-stuff , race-racism-colonial-imperial-ism , theory-philosophy-law , feminist-womanist-gender , own-it , essays-short-stories-collections. Some of these feel a little dated now, but many of them are still so relevant, and that was actually kind of depressing. The ones from the '60s and '70s, talking about what were then still fairly new movements for racial and women's justice, in light of all the advances that the neo-cons and patriarchal and racist fundies made from Reagan one, and now with the ignorant racist teabaggers, ugh, just soooo depressing.
The lesson I take from reading these now is that we can never, ever stop fighting Some of these feel a little dated now, but many of them are still so relevant, and that was actually kind of depressing. Nope, the assholes are always waiting to take back whatever little amount of privilege they lost. View 1 comment. Sep 30, Latasha rated it it was amazing Shelves: favorites. A book of essays by Ms. Walker, who is one of my favorite authors. My favorite ones are the ones with reference to Zora Neale Hurston.
This if full of ideas that may usually be linked to feminism, but Walker instead coins the term "womanism" as she feels black women were left out of the feminist movement dominated by white women. May 05, Torimac rated it it was amazing. I do not remember anything about this book except one lesson I learned from it: Envisoning your future is the key to overcoming your obstacles. This one factor has been key to the nature of my existence changing from surviving to thriving. Thank you Ms. Alice Walker.
Introduction
Thirty-some years ago, I heard or remember her saying that our foremothers were both blocked from realizing their abilities, and redirected their creative urges toward gardening and quilt making. That was a useful insight, one that I've held through the rest of my life. I reread books with different eyes, though. While Walker did talk about redirected creativity, she also described the consequences of having few models, of how black women's work was ignored relative to that of white and black men, and even white women.
While Walker's anger practically walks off the page in some essays, it also includes beautiful and hopeful essays — sometimes the same ones, although I generally preferred the quieter essays I would, wouldn't I? While she worked a single theme here — how her race and gender influence art and how both are perceived and influenced by an unjust society — her thinking is like a diamond, taking different perspectives and tones by turns.
I would like to say that Walker's essays read as dated and irrelevant now, but that would be untrue. Her descriptions of privilege and oppression in both their subtle and unsubtle forms, unfortunately, remains apropos: Without money, an illness, even a simple one, can undermine the will. Without money, getting into a hospital is problematic and getting out without money to pay for the treatment is nearly impossible. Without money, one becomes dependent on other people, who are likely to be— even in their kindness— erratic in their support and despotic in their expectations of return.
Once spread about, however, it becomes a web in which I would sit caught and paralyzed like the fly who stepped into the parlor. Or who belittles in any fashion the gifts you labor so to bring into the world.
Alice Walker's In Search of Our Mother's Gardens
There was a world in my eye. And I saw that it was possible to love it: that in fact, for all it had taught me of shame and anger and inner vision, I did love it. Even to see it drifting out of orbit in boredom, or rolling up out of fatigue, not to mention floating back at attention in excitement bearing witness, a friend has called it , deeply suitable to my personality, and even characteristic of me.
Feminism – In Search of Our Mothers' Gardens.
carfax used vehicle history reports.
free public death records tucson az?
who has best background search.
birth records in houston texas.
ADVERTISEMENT.
Perhaps summing up all her essays, Anybody can observe the Sabbath, but making it holy surely takes the rest of the week p. Shelves: women-authors , non-fiction , feminism-and-politics , people-of-color , anthologies-and-collections , theory. If you read my recent review of Alice Walker's famous novel The Color Purple, then you'll know that I think she is an excellent novelist. Well, dear readers, the good news is that she is also an incredible essayist.
I would encourage teachers everywhere to use her essays in their classrooms as an example of the perfect personal essay especially Beauty: When the Other Dancer is the Self. If you know me or if you've read my blog, you know that I don't usually read non-fiction. It usually bores m If you read my recent review of Alice Walker's famous novel The Color Purple, then you'll know that I think she is an excellent novelist. It usually bores me, and takes me forever to read. I read this book in less than two days, and I actually stayed up late to read it because I could not put it down.
In Search of Our Mothers' Gardens: Womanist Prose
It's that good. The writing is excellent, and I learned so much about the experiences of black women, especially in the South. It was eye-opening, engaging, and just generally awesome. I cannot recommend it enough.
i. The pros
This was a huge book for me in my twenties - I love the short story about her looking for Zora Neale Hurston's grave and putting the tombstone on it herself - very inspiring and spoke to so much in my life - she lifts me up as a woman when I need a pick me up, cries with me when I am inconsolable and dance with joy as women do. Awesome book. Nov 11, E. Gross rated it it was amazing Shelves: favorites. So powerful. Walker's prose continues to be an inspiration to me and speak to me long after I've left it. Jul 07, Andrea rated it it was amazing. I am starting to read more womanist literature and hope to get into some research eventually, so if anyone has any recommendations, I would gladly welcome them!
View all 5 comments. Feb 24, Elizabeth rated it really liked it Shelves: mamalove , poc-author , feminism , essays. This book made me cry. Poetry and essays on civil-rights, feminism, motherhood. Alice Walker rules. It chronicles her journey to identify the then-unmarked grave of Zora Neale Hurston in Ft. Pierce, Florida.
vipauto93.ru/profiles/come-si/come-spiare-un-cellulare-a-distanza-gratis.php It is a question with an answer cruel enough to stop the blood … When we have pleaded for understanding, our character has been distorted; when we have asked for simple caring, we have been handed empty inspirational appellations, then stuck in the farthest corner. When we have asked for love, we have been given children. Don't have an account? Your Web browser is not enabled for JavaScript.